The Falmouth Jewish Congregation
Cape Cod, Massachusetts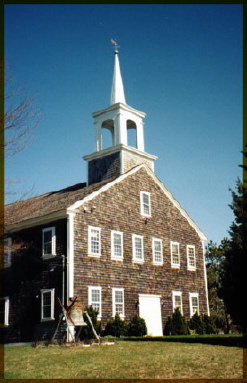 The East End Meeting House was built in 1797, a post-and-beam typical of meeting houses of its period. In 1840, a member of the Congregationalist community which built and owned the Meeting House offered to endow a "Preaching and Teaching Fund" with $10,000 if the congregation agreed to two conditions: (1) that the entire structure be rotated ninety degrees so that its entrance door would face the main road; and (2) that a bell tower and bell be installed. These conditions were met.
On April 12, 1981, a small group of Jewish families who had been holding religious services in their homes held an organizational meeting at which was born the Falmouth Jewish Congregation. Through the generosity of various local churches, services were held on a regular basis. The congregation affiliated with the Union of American Hebrew Congregations in 1982.
In 1983, the East End Meeting House, as well as a parsonage house and the "Preaching and Teaching" endowment, were given to the fledgling Falmouth Jewish Congregation in a unique example of interfaith cooperation. By this time the roof structure had developed a potentially dangerous sag since the original Meeting House had not been designed to carry the weight of a bell. The bell was removed from the tower and now sits beside the Meeting House. In celebration of the building's bicentennial, it was mounted in a special garden.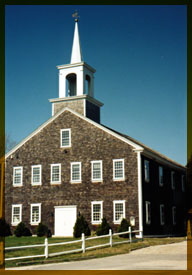 When the Falmouth Jewish Congregation assumed the building in 1983, renovations were undertaken to prepare the building for use as a synagogue. A wide bimah was created, an ark was fashioned by a member of the congregation, the building was made handicapped-accessible, the depth of the pew seating was increased, interior decorations were refurbished, and radiant heat panels were installed above the ceiling.
The original wooden steeple was removed for safety reasons in the wake of Hurricane Bob in August of 1991, at which time it was nearly blown off the roof.
Behind the Meeting House is a cemetery, half of which is the Town cemetery, and half of which belongs to the Congregationalist community which built the Meeting House. The Falmouth Jewish Congregation has taken on the sacred obligation of maintaining this burial ground in perpetuity. In 1995, the Falmouth Jewish Cemetery was dedicated. It is the first and only free-standing Jewish cemetery on Cape Cod.
The congregation has been served by Rabbi Elias Lieberman since 1990.

Bima of the Falmouth Jewish Congregation in East Falmouth, Massachusetts

Ark of the Falmouth Jewish Congregation in East Falmouth, Massachusetts

Community Center of the Falmouth Jewish Congregation in East Falmouth, Massachusetts